GEORGE SOROS I believe. I don't know that for a fact but it seems that all roads lead to George Soros for just about every problem this country, the Middle East and especially Europe and Russia have experienced, and it isn't just them. You can add Venezuela too and parts of South America too. This one man and his son's and ilk have been destroying the world for a globalist new world order. Soros organized billionaires from around the globe to pool their monies and help kickstart his dreams, and while everything is going to hell because of this evil human, he gets wealthy betting on the downfall of countries. It is enough to make one ask, how much wealth to an individual or power is enough? In the case of Soros, not enough till every Man, Woman, Child and Tranny bows down to this filth as an emperor, an enema would be more like it.
So, America is crumbling because Soros controls its media, educational, entertainment and many many many corrupted thug politicians as his interests turn one persona against another, and I keep asking, when is the new Attorney General and the current POTUS who Soros intends to stop at all costs going to shut this (nothing more than a fat old mass murdering criminal) down??? Where is Jeff Sessions who set up for a Robert Mueller? When is the AG going to shut down the witch hunt he set up that brings a sitting duly  elected President down and kicks off one of the bloodiest civil wars in American history, all for the amusement and profits of one Mister George Soros? I keep asking.
We know the Democratic Party is lost to the full control of George Soros, we know about half or more of the Republican Party is controlled by George Soros, we know that George Soros controls censorship of free speech on Twitter, Facebook, Snopes, Google and YouTube. We know George Soros already has American blood on his hands, he has destroyed free and fair elections for whatever was left of them. He has gotten Obama elected, not even a citizen, this lead up to furthering North Korea, yes Soros does tie in. The Arab Spring, his hands are all over this. The downfall of Europe that too. Benghazi, who ties in to that? Hillary Clinton and she is tied to Soros.
It is apparent the head of this serpent and it is the man below. He is the one most likely pushing buttons that the Obama Admin corrupted in D.C. to do this and Soros has had decades to help get this in place, create new piers like Jeff Bezos from the CIA (Bezos owns The Washington Post) to attack Trump daily, corrupt the news media worse than it has ever been. Yeah, Trump got elected and he had better surround himself with the loyalist military personnel, cause if Mueller doesn't do him in which is what the bad guys want, talk of killing the POTUS outright has now surfaced in public and many in the country are openly calling for this, yet how many big named celebs are awaiting treason in jail, huh?
We need to change this…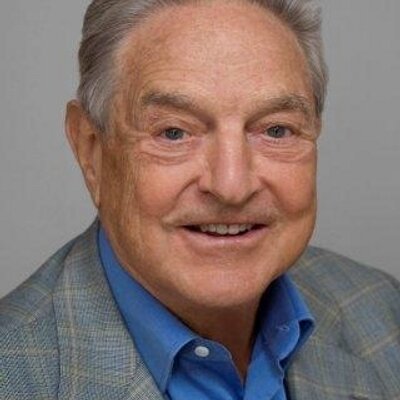 to this,
because if this evil, wicked, demonized soul manages to get our POTUS, rest assured while he lives beyond a king on your American land, he will have minions coming for you next.